News Details
Uncle Article and Landmine post
The Uncle
has provided us with a
great review
of Leader Class Optimus Prime from the 2007 Movie Line of toys.
Check it out
!  
Also today, check out Landmine, one of the new Deluxe class figures from the AllSpark Power line which span between the proper movie toys and the 2008 releases of new Hasbro Transformers lines.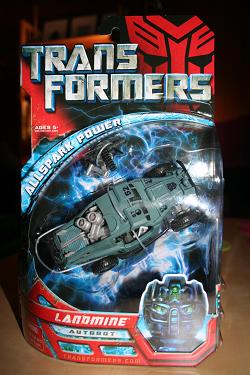 In a nice departure from what has been the norm with the tail end of this movie or even movie-esque line, Landmine is a brand new mold, rather than a repaint of a figure from earlier in 2007. Ostensibly he is one of the vehicles that
John Turturro
was driving in his Sector 7 task force, which served as the misguided human antagonists for the first part of the film, as folks may remember. Hasbro did another nice job on this figure, with an attractive new mold that people should not overlook. The only awkward thing I have to complain about is the foolish looking gun that hangs out over the front windshield, seemingly as an afterthought. Otherwise, it's the same level of great design and detail we've gotten used to for this series. As much as they are enjoyable, however, I know that everyone is excited to get their hands on the new Animated and Classics 2.0 toys, so bring 'em on!
Posted by charlie on January 24th 2008
Leave Comment

Share
---
No comments have been posted.
---