News Details
Robot Heroes
Much discussion has taken place, both in the news postings and through the medium of the
UncleCasts
about the Robot Heroes figures that joined the Transformers universe in 2007. Similar to the treatment that Hasbro is giving to many of their other properties this year, be it Star Wars, Spiderman, or the soon to be released Indiana Jones
Adventure Heroes
, both
The Uncle
and I agree that they are really a wonderful invention. Their simplicity, excellent overall sculpting, lack of losable parts, and average 2" size make them a really perfect toy for young kids, while at the same time being a really fun re-imagining of some of the best characters for the older enthusiasts.  
While the collection of Robot Heroes at the Preserve is complete and up to date (pending the new wave, of course) we have been remiss in posting any of these figures in a timely manner. Hasbro is managing to release quite a few of these sets (though nothing like their deluge in the Galactic Heroes line for the Star Wars franchise) so we feel that getting a good list up will help collectors in their quest. Here then is the Jazz vs. Frenzy set, to kick things off. Click on the picture for a few more images and details, or
click here
for the (still barely populated) Robot Heroes home base.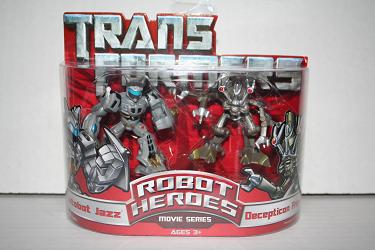 Given that this line has characters from both G1 and from the new movie, it's an easy guess as to which are my favorite. However, the luck of the draw fell with the new rendition of the old favorites today, and out of the huge set of Robot Heroes packs, this one was selected at random. Shortly the section will be fleshed out with the excellent sets of your G1 favorites so check back soon!  
We leave you with a truly awesome and inspiring image, that being of the
promotional poster
for Machete!! (Notice that they even took the time to simulate the 8-section fold, classic!) Anyone who saw the
Grindhouse double feature
last year was without a doubt immediately smitten with the amazing 'trailer' that was shown for this imaginary film. Well, much like the very short lived Mr. T show
I Pity the Fool
, the fact that
Machete
is now being made for real is one of those rare examples that sometimes the most awesome things possible in this world actually come to be.
Posted by charlie on January 25th 2008
Leave Comment

Share
---
No comments have been posted.
---