News Details
Allspark Power Camshaft
Wanting to not leave the new set of AllSpark Powered Deluxe figures from the Transformers Movie line hanging, today we finish up with the last piece of this three item wave. A name that sends a shiver of mail-away excitement down any long-time fan's back, Camshaft finds a home in the new line of toys. Click the image below to see the item detail page.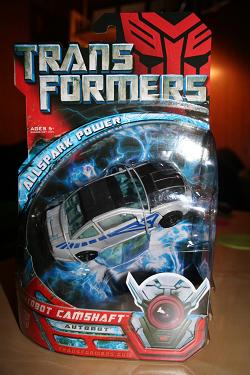 While it is true that he is a repaint of Swindle, I find it to be a nice color treatment that they provided for this figure, and that it makes him look sufficiently different to really pull off the illusion of being a new character. Really and truly, though, it's the name that makes me glad as I mentioned before. Older folks like me may remember that Camshaft was one of the three 'Omnibots' that were available only through mail-away in 1985, where you could redeem some of the robot points from the back of the packaging, and get some great exclusive product. These figures were, I believe, from Takara's Doublechanger line, and were mysterious and awesome. Let us hope that, with the continued success of the Transformers franchise, we might see some new mail-away offers, like we're seeing with 'Rescue Doc' over in the
GI Joe 25th Anniversary
line!
Posted by charlie on January 28th 2008
Leave Comment

Share
---
No comments have been posted.
---