News Details
SMS - Tom and Jerry
We've gone a few days without bringing you any vintage content, so it's time to remedy that right away! Feast your eyes on another imported Sega Master System title, from relatively late in the life of the system. Again, since this console sold much more strongly overseas than it did in the U.S., it was able to enjoy a much larger library in other lands, as opposed to the just over 100 titles on these shores. As a result of it's extended longevity, we are able to get such absolute gems as what we see here, Tom and Jerry: The Movie! Click the picture for a detailed page and additional pictures.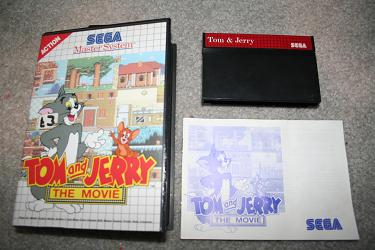 In this game you actually play Tom - or at least that's part of it, I can't claim to have carefully experienced every last ounce of thrilling excitement and adventure that it has to offer - but overall it's pretty fun. From a packaging standpoint, notice in the extended pictures that this game still had the original catalog with it, allowing for a fascinating glimpse into the overseas market at that time. Additionally, in terms of packaging nerdity, notice the small oval 'Sega' sticker placed on the rear of the box. During the time when this game was released, the boxes were sealed with a sticker placed over both halves of the long opening side. sometimes you see that they have been cut or ripped through, sometimes they are missing, but I like to think that some kid or collector carefully removed this sticker and jammed it back there for posterity. Nice of them to do so, and now it has found a home in the Preserve!

Posted by charlie on February 2nd 2008
Leave Comment

Share
---
No comments have been posted.
---