News Details
GI Joe Comic 2Pack Wave 1
Somewhat backwards in the revelation, since the second wave of the GI Joe comic 2 packs was posted a while ago here at the Preserve, the first wave of three is now here to enjoy. It's a bit of a tease, though - just click the picture below for an enlarged view - details about each set will be posted soon.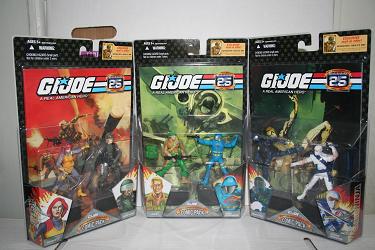 As of today there are just 2 weeks until Toy Fair! We are getting more and more excited about the event, and our impending coverage of the great announcements that it will contain. A serious effort will be made to bring you coverage both about the big releases, such as the new Indiana Jones line, and perhaps even a glimpse at the Hasbro Cloverfield monster, as well as looks into smaller companies, working hard to get their unique and fun products to a larger audience.
A bit of Lego news for you today - they have recently acquired the rights to produce
four Speed Racer sets
which should show up in stores in April 2008, in anticipation of the release of the movie on May 9th. When the sets are available, you can find reviews of them here on the Preserve!
Posted by charlie on February 3rd 2008
Leave Comment

Share
---
No comments have been posted.
---