News Details
Star Wars Mustafar Panning Droid
From the first wave of Star Wars figures to be part of the 2008 line, today we feature figure #08, the Mustafar Panning Droid. Click the picture for details about this figure.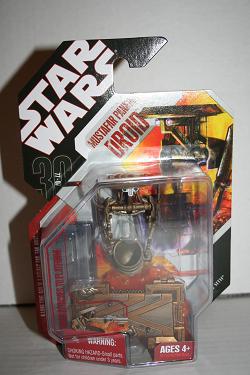 As was mentioned yesterday, droids are always hard to pass up, and this one is multi-piece and well detailed! In particular it comes with the platform onto which Obi-Wan leaps, and the droid itself onto which VaderKin jumps during their final disfiguring battle at the end of the third movie. I definitely like the dark color palette they are using for this first wave, which is consistent with the feel they're going for with this entry in the franchise.
Posted by charlie on February 7th 2008
Leave Comment

Share
---
No comments have been posted.
---