News Details
Eccleston = Destro
Update:
This just in!
Mezco
has just announced that they will again be producing Hellboy figures, this time to compliment the new movie
Hellboy 2: The Golden Army
. Check out a larger group shot of these 6 new ultra articulated figures by clicking the image below!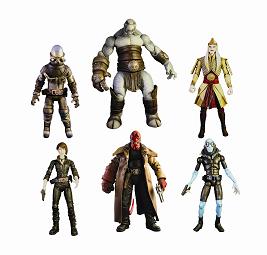 ---
Around these parts we are quite large fans of the Doctor Who, and in particular we were delighted that the resurrection of the franchise several years ago was handled so brilliantly. The ninth doctor, as played by
Christopher Eccleston
, was a dark brooding delight, and a fantastic way to highlight the undercurrent of struggle and anger that was always just under that bubbly and easy going exterior. Over at hisstank.com today a surprising and awesome bit of news has just surfaced: it seems that the actor originally slated to play Destro in the new GI Joe live action movie has been unable to secure a work visa, so they have given the part to Eccleston! The stars are aligning to make this a film that we here will enjoy, and one hopes that it meets with the same critical and revenue success as the Transformers movie of last summer!
Continuing on the GI Joe theme, the three comic packs from Wave 1 of the
GI Joe 25th anniversary line
have finally been posted, in all of their vintage and re-painted glory! Here's comic #1 with the Scarlett and Hawk figures.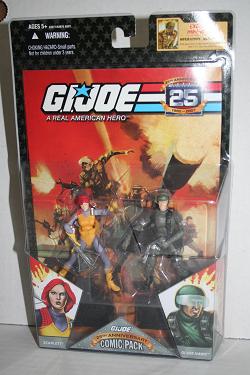 Scarlett has come a long way since her early representation in the '80s, though that original figure will always have a fond place in our collector hearts, I'm sure. This pack, along with five others from the first three waves, contributed a sticker to the Rescue Doc campaign - perhaps Hasbro has even received the ransom note by now - excellent!
Also, as a followup to the Crispin Wonka post from earlier, here is an
interesting podcast
from late 2006 with Crispin talking about his roles in Beowulf and Epic Movie.
Posted by charlie on February 13th 2008
Leave Comment

Share
---
No comments have been posted.
---