News Details
Toy Fair T minus 1
The 2008 New York Toy Fair begins in a matter of hours - the new products and updates are just about bursting forth from the wings! Today is a partial travel day for the Preserve, but we will hope to begin providing new updates soon!  
In case anyone missed the late update yesterday, be sure that you check out the
Billy Zabka interview
and amazing video - if you like The Karate Kid, you'll be glad you did.  
As we transition into Toy Fair, I will leave you with the following excellent piece.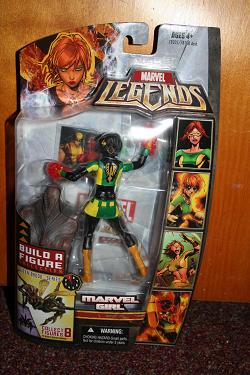 For anyone who has been following the Marvel Legend 'Queen Brood' series, which is mostly on shelves currently, you may recognize this figure. Marvel Girl is, in regular form,
commanding a premium
on eBay. She also comes in a 'powered up' variant with black skin which is
more valuable still
. Then, to raise the stakes, she comes in her third form:
*reverse packaged* variant color
! According to Hasbro, supposedly only 500 of these figures were packaged so I was astonished to have such an amazing success with the morning Target run! There is some discussion that with the number of these reverse packaged variants that are showing up on eBay, perhaps the '500' number isn't entirely accurate. I have to imagine, though, that these figures are almost exclusively snagged by scalpers who then put them up on ebay. The best solution would have been a numbered run, but hey, that's asking too much for a variant. In any case, finding this highly sought after figure in the wild was the rush that keeps the 8am runs going!
Posted by charlie on February 16th 2008
Leave Comment

Share
---
No comments have been posted.
---