News Details
GI Joe 25th - Torpedo
Don't worry Rock 'N Roll, you've got backup! Proficient with explosives and Filipino butterfly knives, Edward W. Leialoha has got you covered. Now if only he could be a little more relaxed off-duty!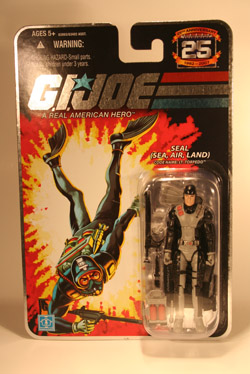 The second of three figures in this small wave 6, Lt. Torpedo is looking good, complete with a bunch of diving accessories and harpoon gun. He even comes with flippers - nice work.
Posted by charlie on March 14th 2008, 07:12 AM
Leave Comment

Share
---
No comments have been posted.
---