News Details
Monster Mania Saturday wrapup
Well folks it was a fantastic day at Monster Mania in Cherry Hill! We saw several excellent panel discussions with the high profile guests, with Bruce Campbell really delivering the goods in terms of blow-the-doors-off hilarity and excitement. I think that my favorite panel of the day, hands down, was the 'They Live' reunion, which featured Roddy Piper and Keith David. These two guys hadn't seen each other in 20 years, and their dynamic on the stage was really touching. Roddy at this point in his life has become a self described peaceful guy, who after 7000 professional fights just doesn't want to ever fight anymore, saying 'I don't even argue with my wife!'. Keith David provided great insight into his career, the trouble in making the jump from the stage to the screen, and his fond memories of everyone's favorite John Carpenter sunglasses revealing monsters movie. Piper also regaled us all with some amazing wrestling related stories from the height of his career in the 80s, which were just astonishing to hear. I think that after the panel they even exchanged numbers to keep in touch.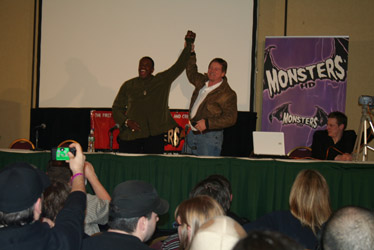 Posted by charlie on March 16th 2008, 04:30 AM
Leave Comment

Share
---
No comments have been posted.
---