News Details
Monster Mania X sunday wrapup
While Sunday is typically a day when many conventions start winding down from the first ray of sunlight, Sunday at Monster Mania X proved to be full of highlights for our show experience. Whereas the non-stop programming of constantly cool Q&A panels on Saturday had left little to no time to meet any of our favorite folks in the autograph rooms, Sunday was wide open and nearly all of the guests had stuck around. Autographs being as pricy as they are these days, we decided to keep things to our very top list of guys, which were Keith David, Roddy Piper and Gunnar Hansen. Meeting Piper was an even better experience than we could have hoped for - he is a kind and fun dude, and even did his best to get a great picture for us, though I'm far too lame to do it proper justice: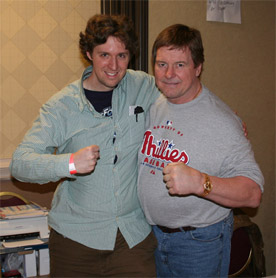 Look at those eyes of his, he's still got it after all these years, and can turn it on when he needs to - I felt for one moment that I was suddenly in the middle of the Greatest Decade and could hear his screaming fans echoing throughout the hotel.  
In his Saturday panel I had asked him how he felt about becoming part of the GI Joe universe - a question that (small surprise I guess) no one else had even come close to! He said that, since he is originally not from America, he has only been learning about the GI Joes recently, but that he understands what a great part they played for people who grew up with them, and is honored to be a part of that team. He also mused about what we did with all the kilts from his various action figures over the years! I was delighted to have him sign the just-released issue #33 of the current GI Joe comic, which features his character on the wrap-around cover of the Cobra team. He got a real kick out of it, and said that he needs to work his way around to the front cover! There will be more pictures and stories posted in the next few days from this great show.
Posted by charlie on March 17th 2008, 01:10 AM
Leave Comment

Share
---
No comments have been posted.
---