News Details
Transformers Target Exclusives - Storm Surge
Several weeks after posting the first two AllSpark battle Target Exclusive scouts, we're finishing up the set with Storm Surge. In a line that has tremendously underrepresented the Decepticon forces at least we now have a second.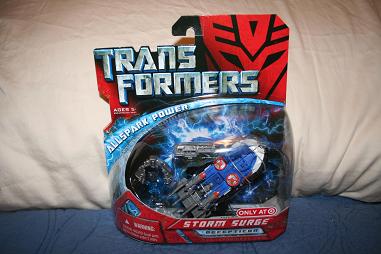 This figure would have been a little more awesome had it been repainted slightly differently and given the obvious G1 name of 'Seaspray' that most all fans have been begging for. Well, I suppose that like 'Tankor' in the upcoming Classics 2.0 series, we are free to remember it as the G1 figure that it really should be.
Posted by charlie on March 24th 2008, 06:46 AM
Leave Comment

Share
---
No comments have been posted.
---