News Details
Star Wars 30th: Battle Damaged Vader
After having finally found the second wave of the 2008 Star Wars 30th Anniversary figures, it is only just and fitting that we start getting the detailed pages posted for what are some of the coolest figures in an overall great series. Today we start off with Battle-Damaged Vader, and they really made the Lord of the Sith have a pretty bad day with this new sculpt - click the link for a details.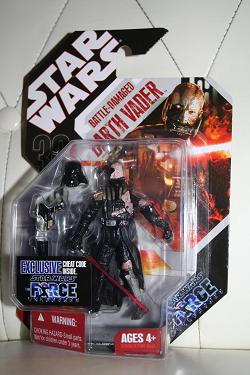 In other toy-related news, the Hasbro figures for the new Iron Man movie are hitting stores, with a dedicated end-cap in Target full of the basic figures as well as a few Target only exclusives! There was also not one, but two full end-caps of Speed Racer product right next to Iron Man, again with a surprising number of Target Exclusives, so if you are a fan of either series, or of Target Exclusives in general, get down to your local store while they last.
Posted by charlie on March 30th 2008, 11:25 AM
Leave Comment

Share
---
No comments have been posted.
---