News Details
Indiana Jones - 12
The Indiana Jones gallery continues to grow, now featuring the 12" figures from the initial release. We have four of them
on display
, and while there are some haters out there, I think that Hasbro has done a pretty excellent job at a $20 price of making foot tall characters, with soft goods clothes, in excellent packaging, with cool accessories. One of the Indy figures even talks, and has a bunch of quotes taken directly from the audio of the movies! This is the character we feature today - click the picture to go to the detail page!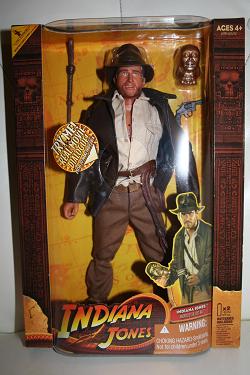 What really needs to happen is that we catalog the quotes that the figure says, but maybe later - for now, enjoy the excellent leather coat and belt, the two whips (one coiled, one extended) and the sidearm with holster! Best yet, these four 12" figures should allow us to complete the mail away form for the scale model of the Ark, and everyone knows how much we dig the Ark around here at the Preserve! Pictures of the order form will be forthcoming as well, and you better believe a gallery of the mail away will be created, months from now when the special item arrives, all Rescue Doc style, in the post.
Posted by charlie on May 3rd 2008, 01:38 AM
Leave Comment

Share
---
No comments have been posted.
---