News Details
Indiana Jones - Jungle Cutter
The second vehicle we feature in the trio of excellent releases in this first wave of Indy product is the Jungle Cutter, from the new movie which is still doing just fine in theaters. It doesn't have much screen time, but at least Indy blows the heck out of it with an RPG - good thing they even made an RPG-weilding Indy figure for your re-enacting enjoyment! Click the image for more pics.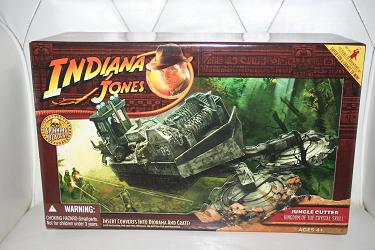 While perhaps not as cool as the set of German vehicles that made up the Ark convoy from Raiders, they did try to come up with a cool design for this one, and it translates pretty darn well to toy design. It's almost like they planned it that way - clever...!
Posted by charlie on June 2nd 2008, 01:28 AM
Leave Comment

Share
---
No comments have been posted.
---