News Details
GI Joe - Target Exclusive Night Specter
After the big deal we made around here about scoring the amazingly fantastic Target Exclusive GI Joe 25th Anniversary vehicles several months ago, you'd think that we would have gotten around to featuring them before now. Well, not so! At long last, here is the first of the three in that bargain priced and super limited set, Night Specter with Grand Slam!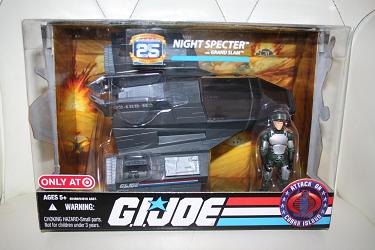 For the $9.99 price it really is amazing what you got with these sets, given that a single carded figure is over $7 by itself in most cases now. Something to remember, though, is that Hasbro is forced to cut some serious accessory and quality corners to deliver so much for so little. While I applaud their efforts to continue to provide as much product for as little cost as they can, I do wish in the very back selfish corners of my mind that they would also produce some really quality product going forward with the understanding that it may come at somewhat of a premium. That said, I have no doubt that they have some amazing things planned for the summer and holiday season. Also, much like Transformers, the movie next summer will bring with it a wave of products. If it does well, the franchise will be strengthened all the more, and we can be sure of seeing a whole range of products start to appear, from Hasbro and anyone who is able to license the brand.
Posted by charlie on June 9th 2008, 01:08 AM
Leave Comment

Share
---
No comments have been posted.
---