News Details
GI Joe 25th - AWE Striker
Let us continue our romp through the set of Target Exclusive vehicle packs that came out several months ago, today featuring the A.W.E. Striker! This vehicle is fondly remembered from the original toys in the 80s, prompting a friend of the Preserve to even remember the driver Crankcase after all these years. He was delighted when I informed him that in fact Hasbro stepped up to the plate and included Crankcase in this new set as well! Click the image below for more info and images!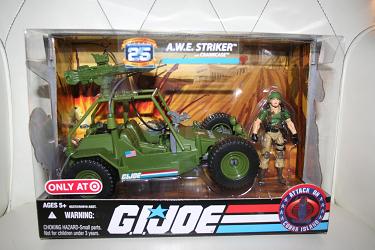 Another $9.99 masterpiece, you get this fantastic vehicle and a great new figure. The bio for Crankcase is another excellent example of someone deep within Hasbro having a good time keeping the vintage alive, and seems to be even longer than average. With a swiveling roof-mounted cannon and a removable detailed engine and a skilled driver ready for a high-speed chase, you can't beat this set! Just toss a teammate in the passenger seat, or better yet manning the top gun, and you're ready for action!
Posted by charlie on June 11th 2008, 12:40 AM
Leave Comment

Share
---
No comments have been posted.
---