News Details
GI Joe 25th Wave 8
The Preserve was fortunate enough to discover the very latest wave of GI Joe 3 3/4" figures on the pegs at good ol' Target several weeks ago.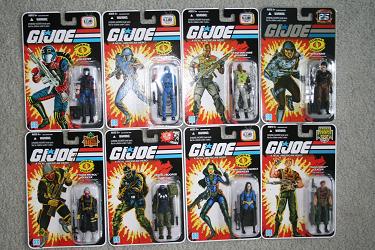 The interesting thing about this wave is that we see the first indications that Hasbro is wrapping up the 25th Anniversary line. The long awaited Major Bludd, which was delayed from the last wave, arrives on a 25th anniversary card, but we see that the other seven figures in the wave are all packed on the new style of card. The 'GI Joe' logo itself is flat white rather than the wonderful silver foil we've come to expect, and the '25th Anniversary' logo in the upper right has been replaced by various icons indicating where the character harkens from: 'GI Joe Cartoon', 'Comic Book', 'Python Patrol', 'Tiger Force' - lots of variation! We also see a repackage of Cobra Commander with the Mass Device crystal, and of the Cobra Viper on a non-25th card.  
We will likely be starting up a new section at the Preserve to track this ongoing line, and taking a cue from hisstank.com will refer to it as 'GI Joe - Modern Era'. With the inclusion of several more vehicle sets and probably a few exclusives here and there, we can probably wrap the 25th line, and have a nice complete section for everyone to enjoy!
Posted by charlie on June 19th 2008, 12:34 AM
Leave Comment

Share
---
No comments have been posted.
---