News Details
Air Raiders - Man o War
As promised several days ago, an expedition was made to the Preserve archives and the massive Air Raiders Man-O-War was discovered and rescued!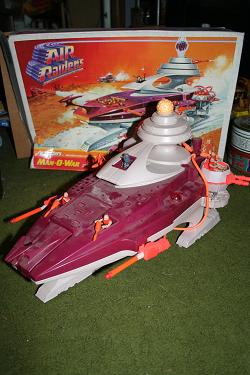 What is even better, as you can see, was the discovery of the box with the vehicle. In still more amazing news, the box still contained all of the original pack-in material, including unused sticker sheets, instructions and a beautiful Air Raiders catalog with pictures of an unreleased playset! All of that material will be posted to the Air Raiders section of the Preserve but I wanted to at least get the basic picture of the newly re-discovered Man-O-War up for display. Yes, it's very dusty, original dust from 1989! I will be cleaning it for the next photo shoot, promise.
Posted by charlie on June 26th 2008, 08:05 AM
Leave Comment

Share
---
No comments have been posted.
---