News Details
Transformers Animated - Lockdown
Well folks, for a time we considered sparing ourselves from the next large Hasbro line that we would, undoubtedly, insist on purchasing in it's entirety, by not falling prey to that one
Pandora's Purchase
that always kicks things off. For better or for worse, seeing the figures in stores at long last proved too strong a temptation to avoid, and we left with the Lockdown and Blackarachnia Deluxe figures. Click the image of Lockdown for his detail page!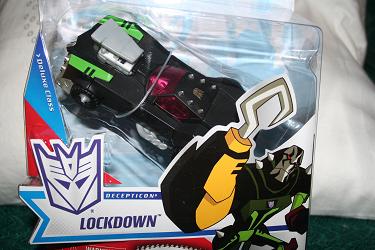 Anyone who has been watching the cartoon and has even a passing interest in toys and collectables will probably be sucked into this line. By and large they are doing a really fantastic job with that show, and that the accompanying action figures which make up this line are nearly perfect copies of their on screen counterparts, in both robot and alternate mode, makes it almost impossible to say no. The sky is probably the limit with this line, since the show is being well received - so far the list of released and planned figures isn't giant, but I have my private suspicious as to what the future holds. Oh that Pandora's Purchase is a tough pill to swallow sometimes!
Posted by charlie on June 29th 2008, 12:39 AM
Leave Comment

Share
---
No comments have been posted.
---