News Details
Transformers Movie 2007 - Premium Bumblebee
We finally finished up with the Transformers Movie 2007 Deluxe line, having at last posted Premium series Bumblebee to the Preserve! Having been lucky enough to score this one several weeks ago, it remains the only example of this figure we've ever seen in stores! As a line draws to a close, the final figures are always going to be harder to find, and potentially in greater demand down the road. We still have not seen a single example from either the final wave of Real Gear figures, or Robot Heroes, and they are even in short supply on eBay! Fortunately
hasbrotoyshop.com
still has them in stock, so anyone who is looking to complete this entire set might do well to abandon the hunt for these end-game figures. Click the image for more views and the retool-justifying bio.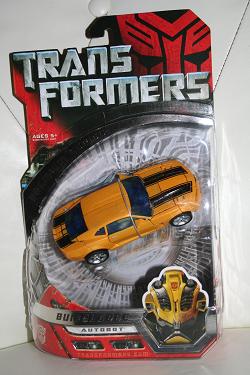 This should complete the list of Deluxe figures, at a staggering total of 29 bots! Now, there are still some exclusives trickling out here and there, like the second wave of WalMart exclusives that are supposed to hit later this year, but barring any funny stuff from Hasbro they really should put this line to bed and get on with the amazing Animated and Classics 2.0 lines, which are hitting stores now!
Posted by charlie on June 30th 2008, 07:39 AM
Leave Comment

Share
---
No comments have been posted.
---