News Details
GI Joe Wave 9 group shot
Following up yesterday's great find of the GI Joe wave 9/wave2 figures, here is the group shot of their fantasticness!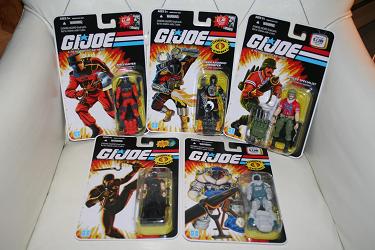 It's a little hard to tell how to account for these waves, since we've transferred from the
25th Anniversary
to the ongoing
Modern Era
series. By many accounts, we are up to wave 9 of the figures, but it makes the most sense to consider this as the 2nd wave of the ongoing series. We'll keep both numbers going for a while until the transition is complete.  
This wave, as was said yesterday, is really great looking, including some of the really iconic characters from the good ol' days. Somehow, though, it seems that we left Hawk on the shelf yesterday at Target! While there weren't many figures on the pegs, we were perhaps distracted by the Wild Bill repackage, as well as the mind-numbing reality of $7.99 a figure and the Target Coupon evaporation. Hopefully that new price will keep the figures where they are, and Hawk probably isn't the most in-demand character from this set, so maybe we can polish off the set today like it should have been! Due to rampaging OCD, it's nice to have matching stamp values for an entire wave, so it'll be nice to find that Hawk.  
I will also have to eventually check out another example of the B.A.T., because the paint on the Preserve example is pretty suspect. It's possible that this application is on purpose to give the 'metal' a 'weathered' look, but if it's supposed to be solid silver, then we have a hilariously mis-painted piece! It's interesting either way, I suppose, but may be an example of Hasbro's ongoing trouble with quality control. Get hunting for this wave - we certainly only saw wave 8 once, and this wave may prove to be just as rare.
Posted by charlie on July 9th 2008, 12:12 AM
Leave Comment

Share
---
No comments have been posted.
---