News Details
Year of Daily Posts
I wanted to be sure to comment that today, the 9th of July, marks a year straight of daily posts here at the Preserve! When the site started, it was more of an occasional pursuit, and has turned into a more serious news and information site filled with the daily grind that such an endeavor entails - who knew how much work it would be! It has been a fantastic year for the toy biz - one of the coolest seen since the heights of the Greatest Decade, and it has been an honor to be in the midst of it all.  
As San Diego Comic Con looms large on the horizon, I wanted to step back, take a deep breath and a contented look around the physical and the digital Preserve, and look forward to the great year to come!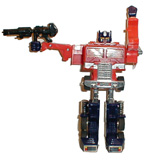 Posted by charlie on July 9th 2008, 05:06 PM
Leave Comment

Share
---
No comments have been posted.
---