News Details
GI Joe Modern Era - Cobra Commander
We have been quietly building out the
GI Joe Modern Era
gallery, working on posting the two fantastic waves of new figures that Hasbro has hit us with. Just to make sure that people are keeping up with the goodness, today we wanted to feature an interesting, and somewhat sneaky, figure from the first wave of Modern Era - Cobra Commander with M.A.S.S. Device Crystals!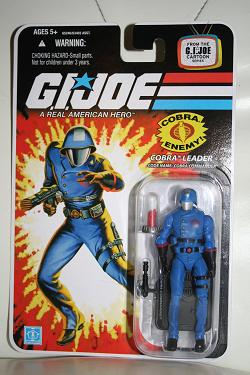 As was discussed briefly before, I believe, this figure was initially left behind on the toy run that found the wave 8 set in the store. However, the short-sightedness of this act was soon realized when it became clear that, far from a 100% repackage of the Cobra Commander figure from wave 4 of the
25th Anniversary
, the new accessory that this version was packed with was a must have! Especially given the DVD Battle Pack that will come out soon featuring the ol' M.A.S.S. Device, it was a imperative to not miss out on this Cobra Commander.
So, while he certainly is identical to the wave 4 figure, at least Hasbro put in a little extra love, and gave us an updated and topical Bio as well! The same can't be said about the Viper from this wave, which is a duplicate of the wave 7 release, but hey, 7 out of 8 new or improved figures is not bad!
Posted by charlie on July 13th 2008, 10:47 AM
Leave Comment

Share
---
No comments have been posted.
---