News Details
SDCC - Filtered Programming list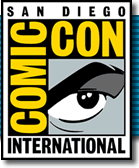 With the San Diego Comic Con an astonishingly short amount of time away, they have finally posted their
final programming guide
! There is so much good stuff listed, it's really hard to parse the whole thing, so we've done some of the hard work for you! Friend of the Preserve, Chase, has
compiled a sub-list
featuring panels that are Preserve worthy and should be of particular interest to our readers. Follow this schedule to have your best bet of seeing Grant Morrison, Stan Lee, the latest GI Joe and Transformers news from Hasbro, the whole Doctor Who and Torchwood team (well, except for the Doctor himself), Richard Dean Anderson, the Mystery Science Theater 3000 reunion and so much more awesomeness! We'll provide more specifics as they become available, and hope that a bunch of our readers can make it to the show!
Posted by charlie on July 15th 2008, 12:43 AM
Leave Comment

Share
---
No comments have been posted.
---