News Details
Indiana Jones - Hasbro Titanium
At long last, the Titanium series for the new
Indiana Jones figures
from Hasbro has started to filter into my backwoods town! This will probably come as old news to all big city dwellers (at least in the US) who read the Preserve, but for us it was a great thrill to see some new Indy product on the shelves.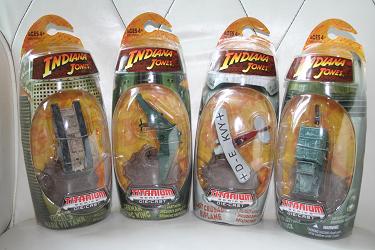 Now, there was also the Jungle Cutter, Mutt on his bike and a Jet Sled featuring mini figures of Indy and Dovchenko - but we took the high road and left all of the KotCS figures behind. I'm sure that we'll either live to regret that, or simply buy them in another week when the lack of completeness becomes unacceptable, but for now it kept us to only four.  
"
What, only four?
" you say. "
But in the Latin alphabet, there are five figures in the vintage set!
". Well, you are quite right, there should be five pieces from the vintage films in the first and second waves of Titanium, and the missing figure was of course the coolest of all! Missing from the pegs were Indy and his dad on the German motorcycle, hands down the best possible piece from the set! Well, at least whoever got there first left a little behind for us, but that one is certainly the hot item from this lot, so
Shopping Tip:
if you're only getting one, get Indy and Connery on the bike - you'll dig it!
Posted by charlie on July 18th 2008, 12:51 AM
Leave Comment

Share
---
No comments have been posted.
---