News Details
Hasbro tidal flood!
Well, gentle readers, after a wallet-friendly draught that lasted for seeming months, where new product was promised and dangled before us like carrots for a donkey or fake rabbits for a Greyhound, finally appearing everyplace in the country other than the Preserve home town, this week seems to at last be the tipping point. After discovering the Indiana Jones Titanium items yesterday, we were bowled over to find set 1/5 and set 2/5 of the new GI Joe DVD Battle Packs at Target today!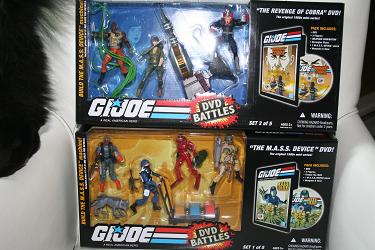 These astonishing sets were immediately purchased for the screaming discount price of $19.99 each, and for anyone who hasn't been keeping score, each set contains several figures, a piece of the M.A.S.S. device, and a DVD of classic episodes which form the mini-series that the pack represents! What a freaking amazing thing! Especially since the episodes are out of print on DVD and trading for absurd premiums on the eBay, that Hasbro has unearthed and released even a subset of the episodes makes the fans shoot their patriotic-colored lasers skyward with delight.  
Not to be outdone, the Transformers section at Target, while still woefully understocked, had two copies of the gigantic 'Roll Out Command Optimus Prime' Supreme Class figure. This little number auto-transforms when pushed and pulled along a smooth surface, and commands the weighty price of $50. We encourage others to enjoy this piece, but feel that money is better spent on the Toys R Us exclusive Indiana Jones Lego set 'Peril in Peru'.  
Since not enough awesomeness was seen yet today, a stop down at WalMart took place later, revealing the still needed Duke and Red Star Gi Joe Comic 2-Pack, as well as a shelf full of wave 3 Animated Deluxe figures. Remnants of Transformers: Classics 2.0 (or 'Universe') were also evident, with only Sunstreaker remaining, which has now joined the Preserve along with Animated Jazz. We continue to search for the Indy Mighty Muggs, but one thing is certain - this week the floodgates were cast open, and the tidal wave is a-comin' with Star Wars figures on the 26th. I hope everyone who cares has been saving their pennies, because it's gonna be beans from a can until Christmas when this is all said and done!
Posted by charlie on July 19th 2008, 12:22 AM
Leave Comment

Share
---
No comments have been posted.
---