News Details
GI Joe 12 Inch FIgure
The hits keep coming, Preserve readers, as we discussed previously. The gloves are off and Hasbro is inundating us with new product left and right, making sure that I stumbled across the brand new GI Joe 12" figures yesterday!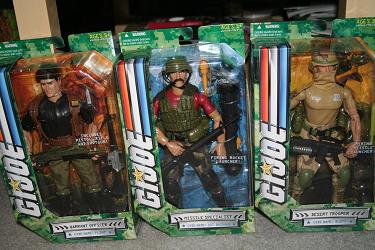 This set of figures from Wave 1 of the new series is only missing the Cobra Tooper - small surprise as I'm sure those with an inclination towards troop building will be snapping up this great looking figure in whatever quantities they can manage.  
As a side note, I've seen a lot of complaining on various corners of the Internet about the lackluster job that Hasbro did with these figures compared to the new GI Joe line that
Sideshow Collectables
is slowly releasing. Having now seen, purchased, and opened some of the Hasbro 12" figures, I am more than happy to take up the counter argument, pointing out that these figures are only $14.99 in stores, while you'll end up paying nearly $100 for the Sideshow versions, and don't forget about shipping! I think at the price we're seeing from Hasbro, they have done a spectacular job, and are making a line of figures in a great scale with really thoughtful detail and accessories. People would do well to take all factors into account, and give credit where credit is due. We'll be featuring these figures individually over the next few days, hopefully, though on Tuesday we travel to San Diego for the big event. Stay tuned for our coverage, rolling in Wednesday night!
Posted by charlie on July 20th 2008, 07:17 AM
Leave Comment

Share
---
No comments have been posted.
---