News Details
GI Joe Modern Era - Roadblock
As much as I'm sure that everyone would like to hear about the kayaking trip today, and the non-trivial number of sea lions which frolicked along side of the boats, instead I'm going to at least pull things back to the Preserve mission a little bit. Today let's take a look at the last figure from the
Wave 1
GI Joe Modern Era collection
, Roadblock!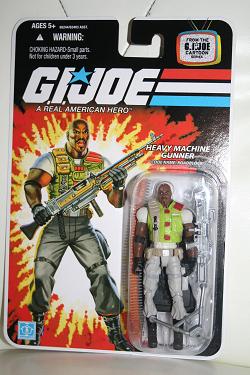 In the GI Joe panel at the San Diego Comic Con, someone asked the writer (Stuart Beattie) of the new GI Joe live action movie (coming out in 2009) how they decided between Heavy Duty and Roadblock. Ignoring the rather crass nature of the question, we can at least spring from it to address the fact that Roadblock, while indisputably an awesome character, is somewhat of a characture, speaking in rhymes and with a secondary specialty of 'cook'. It's good, in some ways, that Heavy Duty addressed some of these rather unfortunate characteristics with more reasonable behavior - trading cooking for a love of 'classical guitars and Bach' - you might say a little too heavy handed a repair even. This character difference may well be why he's featured in the movie, though the writer wouldn't say as much, stating only that he loved both characters, and that it just felt that Heavy Duty was a better fit overall for the tone that he was going for. We're all certainly very interested to see what happens on August 7th, 2009 when the movie premieres!
Posted by charlie on July 31st 2008, 12:38 AM
Leave Comment

Share
---
No comments have been posted.
---