News Details
SDCC - Cosplay
Comic Con is always a great place to see the best and the brightest in costumes and cosplay - they don't call it the 'nerd prom' for nothing! In fact, I hope to participate myself next year, now that a little understanding of the scope and style of the event have been determined. Today let's take a look at two more excellent costume pictures that I grabbed at the show.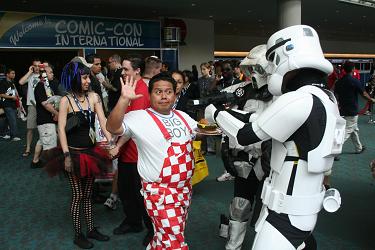 The Stormtrooper holding up Bob's Big Boy is delightful, and this pic was a pretty rare one to get! While everyone makes a fuss over the 501st legion armor and their omnipresence at all of the shows, I give great props to the dude dressed in the Big Boy outfit - I've sure never seen that before so it beats the pants off of the 123,213 dude in a Stormtrooper suit!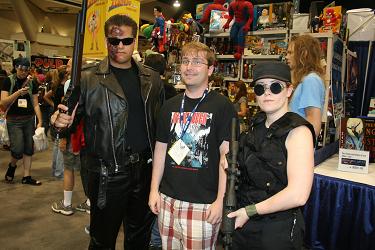 There was a great Sarah Connor and Arnold/Terminator making the rounds, and The Uncle managed to jump into the frame with them. Look how happy he is - it's like he was instantly transported back to 1991 when the movie was first in theaters, with his favorite lines running through his happy mind. Just look at that face, it's as plain as day!
Posted by charlie on August 2nd 2008, 05:49 AM
Leave Comment

Share
---
jerry
August 3rd

Perhaps the uncle is merely unhappy because he was wearing something other than his pajamas until arnold told him: "Your clothes: give them to me."
---