News Details
SDCC Follow up 1
It is certainly bordering on entirely unacceptable that it is over 2 weeks since the San Diego Comic Con wrapped, and we have posted very few pictures or reflections from the event! Certainly it was tricky with the extended vacation, but all well worth it I believe, and now we can settled our tanned and relaxed selves back in front of the old keyboards and become pasty white and overworked once more!
So, let's kick things off with the revived coverage of the 2008 SDCC! Shocker Toys was of course at the show, as the banner we've run for over a month indicated. They had some initial shipping trouble resulting in the absence of their much anticipated Dethklok figures, but once it was sorted out on day #2 their booth was flying high! We have a gallery of their Indy Spotlight figures and some great Dethklok Shockinis, and we'll post a full review of the excellent Metalocalypse box set soon. Click the image to see the full gallery!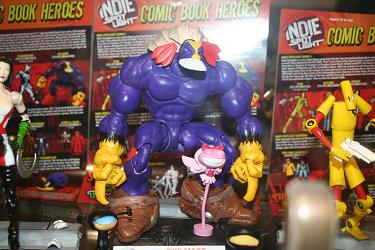 Posted by charlie on August 7th 2008, 12:50 AM
Leave Comment

Share
---
No comments have been posted.
---