News Details
Target Haul
Target came through in a big way today, though it was my own fault that I was a little late in getting there! They finally restocked what was probably a single solitary case of Movie Masters figures for the new Batman line but the Joker was certainly gone when I showed up. I was still able to snag a Scarecrow which is a fantastic figure, so hey that's something! I'm sure they'll be everyplace soon but hey, small victories. They also had a restock on their Transformers Classics 2.0 figures and there were two Tankors (aka Octane) on the shelf, which had previously been hard to find around here. The last part of the successful hat-trick was a massive restock on the wave 9 GI Joe single carded figures, which hadn't been touched! Were I a troop builder I'd totally have snagged the spare B.A.T.s and Snow Serpents, but as it is I was delighted to get General Hawk to finish off the set.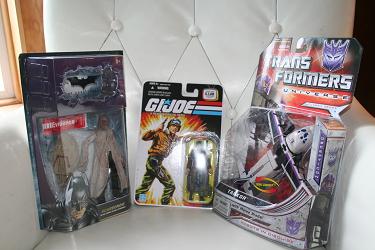 These will get posted individually soon to fill out the respective areas they represent. Additionally in awesome news, I cracked open the GI Joe dvd Battle Pack 1/5 and watched the 5 part Mass Device mini-series for the first time in probably 22 years. Pretty awesome memories, and hats off to Hasbro yet again for an amazing set of a 2 hour movie, 4 figures with weapons, Timber, and a part of the MASS device - for $20! Astonishing! Everyone please go out and get a set for yourself, you can't beat it.
Posted by charlie on August 9th 2008, 12:49 AM
Leave Comment

Share
---
No comments have been posted.
---