News Details
SDCC - KoL
Our San Diego Comic Con coverage continues to slowly roll in, today featuring pics from the Kingdom of Loathing booth! This is a great text-based web RPG with a sense of humor and various movie and game references that make it fit right in here at the Preserve. Sadly we had never played it, until a co-worker told us we'd love it, and seeing their fun booth was the last push over the edge.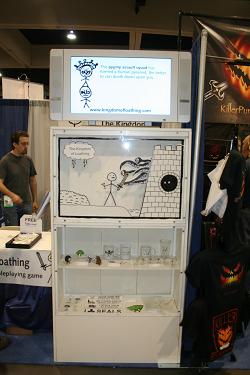 Their display front and center was actually a great animation of those tentacles reaching out for the dude, moving back and forth and powered by a Lego Mindstorms kit, they told me! Sadly the two pics I snapped in an effort to recreate the animated properties are basically identical, so just take my word on it. They have a fun line of merchandising (where the real money from the movie is made) that goes along with their game, and I think every last piece of it was there at the show with them and is featured in our gallery.
Click through
to see all the pics from the KoL booth, and then
sign up
a new character and check it out!
Posted by charlie on August 13th 2008, 07:29 AM
Leave Comment

Share
---
No comments have been posted.
---