News Details
SDCC - Hasbro Lucasfilm panel
We continue our slow trudge through the mass of content that was the San Diego Comic Con, today bringing you a fairly large gallery of the Hasbro 'Lucasfilm' panel. This basically was a chance for them to show off the new Star Wars and Indiana Jones figures that we'll be seeing on shelves for the holiday season, as well as a sneak peak into 2009.
Also cool was the bit of knowledge we learned about the Millennium Falcon. We all know that there is a fantastic new incarnation of this ship on the shelves, which is huge and beautiful. Well, on the panel was a gentleman with a gray beard and a big smile, and we learned that he is the original sculptor of the classic Falcon from 1979, and was tapped to create this latest piece as well! He spoke about it and was very excited to get to do all the things that a tight budget and limited technology didn't allow in the 70s, and he's really made a toy for the ages. Click on the image for the full gallery, which is huge - nearly 100 photos! I've added captions for nearly everything to assist your navigation.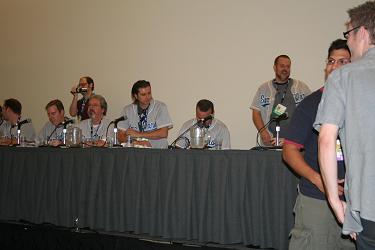 You'll notice a distinct different in the number of slides for Star Wars vs. Indiana Jones, and the panel itself was hilarious as they ran short on time. While they had expected for it to be tight, as they weren't even given a full hour, they basically flipped through the Indy slides at about 3 seconds each, and it was a real test of reflexes to bring you those pictures! Sadly this seems to add fuel to growing speculation that the Indiana Jones line is not long for this world, both due to stock sitting at stores around the country, and the tepid replies by Hasbro in their Indy Q&A's. Grab the figures while you can, because it will almost certainly be a limited series.
Posted by charlie on August 22nd 2008, 09:53 AM
Leave Comment

Share
---
No comments have been posted.
---