News Details
SDCC - Brutal
One of the guilty pleasures that I take from these conventions is the number of clever and well executed costumes that people put on parade and which fill the halls. I refuse to go to the actual 'fashion show' or whatever it's called which encourages people to show off their triumphs, I prefer instead to just keep a watchful eye and catch people in a more natural setting, and I think we did a pretty good job of it at this year's show! I'm going to put together a gallery highlighting the best of the costumes that we saw this year, once I slog though some more of the convention coverage in general - we're almost up to Saturday! Well, here then is another favorite costume group - I like to think that Toki had that bowl full of candy earlier that he was joyously giving out!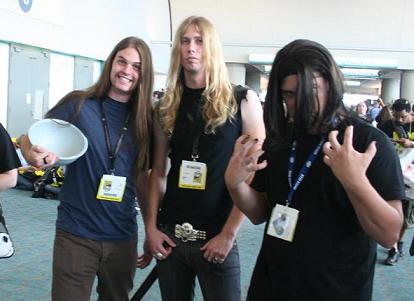 Yes, it's sad that Murderface and Pickles are missing, but I think these guys did a solid job of it, and I was thrilled to catch them on my harried way to the Hasbro Star Wars panel - brutal!
Posted by charlie on August 24th 2008, 04:55 PM
Leave Comment

Share
---
No comments have been posted.
---