News Details
Transformers Animated - Jazz
Our resolve in the face of the awesome
Transformers Animated
figures has only been marginally as strong as we had hoped, and the deluxe figures continue to charm their way into the Preserve. Cartoon accurate designs for both vehicle and robot mode and the reuse of classic names which always wins me over has left little doubt that at least the early figures needed to be in the collection, while hopefully we can pass on the certain ton of repaints that Hasbro has in the works. Today, let's take a look at Jazz, certainly one of the fan favorites from years gone by.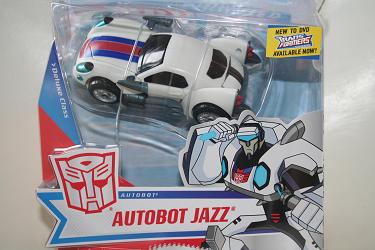 He is now a ninja and part of the Elite Guard on Cybertron but he'll always be the 'hip' character voiced by
Scatman Crothers
to me.
Posted by charlie on September 1st 2008, 10:10 AM
Leave Comment

Share
---
No comments have been posted.
---