News Details
Lego Brickmaster - Set 20005 Bionicle
While it is certainly no exaggeration to say that we have thousands of awesome pictures that want for posting, hopefully to the delight and edification of our many dedicated readers, the update for today was set in stone when I picked up my mail yesterday. Like clockwork, it being only several days into the month of September, the brand new
Lego Brickmaster
set, #20005 featuring a Bionicle figure, has arrived with much fanfare!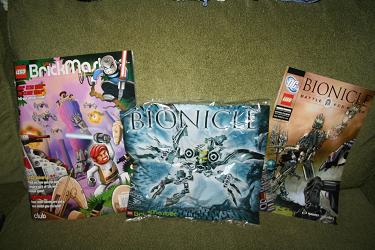 As always, the plan will be to open up this set, build it, and get additional pictures to you eventually, but for now at least it is
cataloged
which seems to be something sorely lacking for the Brickmaster sets on this the old internets!
I am a strong champion of how awesome the Brickmaster club is, and how it's probably the best value for your collecting dollar, especially in terms of periodic excitement and surprises that you get throughout the year! Hopefully when the Preserve has a full set of a year's worth of member-only sets, Lego will see a still increasing interest in this great program of theirs!
Posted by charlie on September 5th 2008, 06:52 AM
Leave Comment

Share
---
No comments have been posted.
---