News Details
Star Wars Legacy 2008 - Falcon
Today the Uncle brings us pictures of the amazing new Legacy Collection Millennium Falcon from Hasbro - this has been the buzz of the toy industry for months and it is finally here! With a whopping pricetag, but features to match, it is perhaps the greatest vehicle or playset to have ever been widely released. It was even, as we previously reported, sculpted by the original designer of the Falcon toy in the late 70s; all these years later and he finally got to include the sort of amazing features that the technology and market of the time would not support! Check out the page for this amazing toy by clicking the image, and look forward to even more coverage in weeks to come!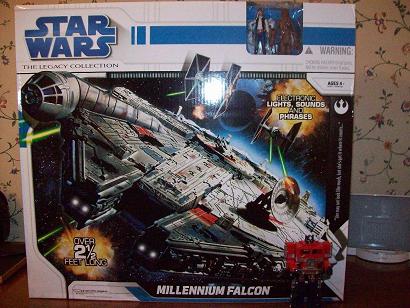 Posted by charlie on September 7th 2008, 02:14 AM
Leave Comment

Share
---
jerry
September 8th

I am very disappointed by the uncle-esque lack of review for this monstrous toy.
To see how disappointed, try to imagine a scene like this...

Charlie: I'm here to put you back on schedule.
Uncle Apologist: I assure you, lord Charlie, the Uncle is working as fast as he can on the toy review.
Charlie: Perhaps I can find new ways to motivate him.
Uncle Apologist: I tell you, this toy review will be operational as planned.
Charlie: Jerry does not share your optimistic appraisal of the situation.
Uncle Apologist: But he asks the impossible. I need more time.
Charlie: Then perhaps you can tell him when he arrives.
Uncle Apologist: Jerry's coming here?
Charlie: That is correct, Commander. And he is most displeased with your apparent lack of progress.
Uncle Apologist: We shall double our efforts.
Charlie: I hope so, Commander, for your sake. Jerry is not as forgiving as I am.

---