News Details
Hasbro Indiana Jones - Vogel's Tank Titanium
As reported a few weeks ago, we were able to track down most of a full set of the new Hasbro Indiana Jones Titanium Series figures at the local Target, but missing from the set was the best piece (of course), being Indy and elder Jones in the two-person cycle. Well, a trip to the wilds of New Hampshire fixed that up, amazingly, and all without sales tax! So, it's high time to start featuring this line of Titanium Indy figures, baring in mind that recent Hasbro Q&As have made it pretty clear that this is the one and only wave we're likely to see of this product. Here then is
Vogel's Mark VII Tank
- click the pic for a full details page.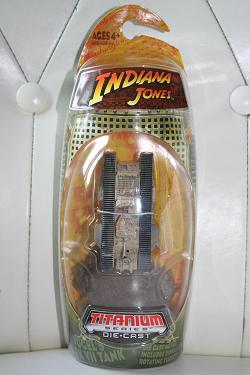 I know that opinion runs hot and cold on the Titanium line which spans most of Hasbro's action figure properties lately, but I admit that I really like them. They even go to some lengths to provide unique information on the back of each figure, which is more than you get from some packages! Check out the info for the Tank, and stay tuned for the rest of the pieces from this set!
Posted by charlie on September 9th 2008, 11:05 AM
Leave Comment

Share
---
No comments have been posted.
---