News Details
Indiana Jones Titanium - Cargo Truck
We finish up the first batch of Indiana Jones Titanium Series figures with the iconic Cargo Truck from Raiders of the Lost Ark. This piece even has a mini Indy dragging behind the truck, just like in the movie! Seems that the dragging and the flipping grill were two great action features that Hasbro tried to incorporate into both it's small scale, and large 3 3/4" scale vehicles of this great truck. The back cover of the Titanium vehicle is even removable - great detail! Click the image for the full writeup from the back of the package, and some more pics.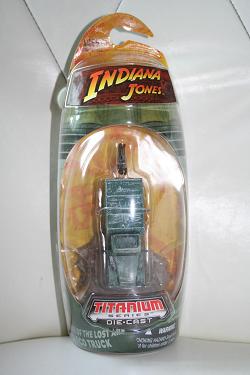 Posted by charlie on September 17th 2008, 06:39 PM
Leave Comment

Share
---
No comments have been posted.
---