News Details
GI Joe Modern Era - Destro Comic pack variant
Friend of the Preserve and GI Joe hunter extraordinaire, Rudger, has secured for the collection the rare black mask Destro variant comic pack! As we advised a few weeks back, this two-pack is shipping with a chase variant, and everyone should keep their eyes open for it. Our hunts had so far turned up empty but thanks to teamwork, we can now feature images of this great variant that you should try to track down! Click on the image below to visit the main page for this comic pack, which features a few additional shots of the variant set as well as pics of the regular edition.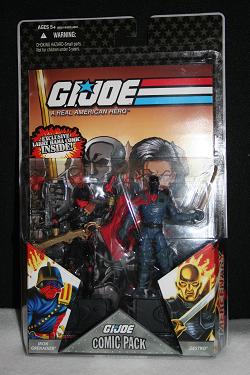 Posted by charlie on September 20th 2008, 01:42 AM
Leave Comment

Share
---
No comments have been posted.
---