News Details
GI Joe Modern Era - Conquest X-30
Today we finish up the second half of the fantastic new Target Exclusive GI Joe Modern era vehicle set with the Conquest X-30! Click the image below to learn more about this fantastic machine, and Lt. Slip Stream who has the tools and the talent to command this touchy vehicle!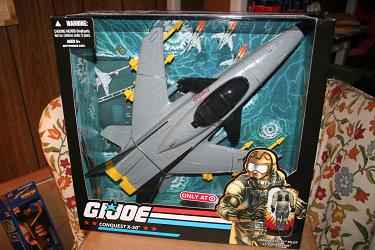 I cannot stress enough how wonderful it is to see large scale vehicles as part of this ongoing GI Joe line, and huge props have to go to Target for getting on board with these exclusives. It seems that they have been willing to take a risk on this line over and over again, and I think it's clear that it's paid off for them with sell-out products every time. Being one of the three main retailers for toys that most people have access to these days (WalMart and Toys R Us being the other two, I figure) it is fortunate that they have a GI Joe fan on their purchasing committee! Hopefully we'll start to see more participation from WalMart as we go forward, though there are a smattering of exclusives slated for the coming months there. Certainly Toys R Us does continue with the 5-pack and 3-pack exclusives that it's embraced with this revived line, which continue to be excellent and well worth the price. Here's to hoping that sales are good enough with these fantastic jets that we see more of these large-format vehicles, that harken back to the greatest decade!
Posted by charlie on September 21st 2008, 08:41 PM
Leave Comment

Share
---
No comments have been posted.
---