News Details
Indy's Ultimate Adventure
As a follow-up to yesterday, I realized that I should have a look in the Preserve's own coverage of the Indiana Jones toys at the Hasbro booth from SDCC 2008. You know that your site has a bunch of content when you can do research within it and find something you'd completely forgotten about! Well, that happened here, and I was able to find a perfect picture that I took of the WalMart Exclusive Indy's Ultimate Adventure playset! Click the image for a larger look.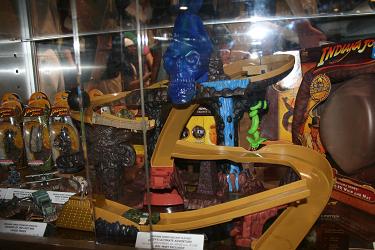 What is even better, and was not clear at the show or from that picture, is that there is a large button atop the blue skull. When pressed, the eyes glow red, and one of several different, fairly well amplified, recordings booms forth. Of course, in the tradition of the toy aisle, this feature is testable while the product is still boxed up, as will be seen in our photo gallery soon!
Note that they had to pull the front launch ramp off, and simply lay it across sideways so that the piece fit inside the display case. That ramp really should extend straight out, and is the starting point for the excellent die cast car (complete with a mini die cast indy!) to fire around the track, triggering a swinging snake, a Raiders style boulder, and hopefully making the jump!
Posted by charlie on September 23rd 2008, 08:48 AM
Leave Comment

Share
---
No comments have been posted.
---