News Details
Transformers WalMart Exclusive Fracture
Let's take a closer look at one of the new WalMart Exclusive AllSpark Deluxe Transformers figures that we reported on a few days ago. Not content to save the best for last, we're starting out with Fracture right out of the gate - what I have to imagine will be the fan favorite from this set. At the very least, I know she's the favorite around the Preserve! Click the link for more pictures and the bio.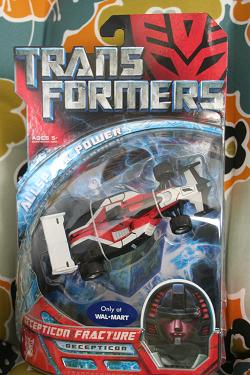 I like how they make her very powerful, and not a bot to mess with in her stats and bio writeup. It reminds me somewhat of the Arcee one-shot comic that came out earlier this year where she is a total heavy, not just some pink Autobot with princess Leia curls. That book is worth checking out for the grittier take on the underrepresented robot gender, and Fracture is a great addition to the cannon!
Posted by charlie on September 28th 2008, 12:26 PM
Leave Comment

Share
---
No comments have been posted.
---