News Details
Target Exclusive AllSpark Deluxe Jazz
Filling in a hole in the coverage from several months ago, let's take a look at the Target Exclusive Jazz figure that was a part of that awesome checklane endcap which we eagerly anticipated way back when. Featuring exclusive sets of Star Wars 2-packs, GI Joe vehicles and Transformers Deluxe AllSpark figure, it was a brief and shining moment of retail glory! Jazz is admittedly a repaint, and it is one of many reuses of this mold that we saw Hasbro use in this product line, but he forms a key part of this great Target exclusive set and therefore becomes remarkable! Click the image below for additional pictures and product information.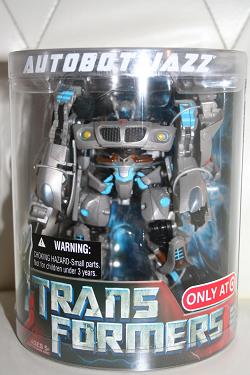 The abbreviated bio indicates that Jazz was able to survive being ripped in two by Megatron in the 'climatic' finale of the Michael Bay mess of a movie that came out last year. It remains to be seen if that claim is made cannon by the second film, but given the reliance that the toy line has placed on the 'Power of the AllSpark' this claim is neither unexpected nor out of line with the rest of their recent ideas. Well, everyone likes Jazz, though I certainly like
Scatman
the best, but having him back wouldn't be terrible in movie #2.
Posted by charlie on October 1st 2008, 02:19 AM
Leave Comment

Share
---
No comments have been posted.
---