News Details
Adventure Heroes: Mola Ram and Temple Priest
Fans of Mola Ram rejoice! You may not be able to score the fantastic 3 3/4" Mola figure from the 4th wave of Indy figures, unless you are willing to pay the rapidly escalating price on ebay ($39, likely higher by the time you read this), but at least you can get a super-deformed mini version in the form of the Adventure Heroes two pack!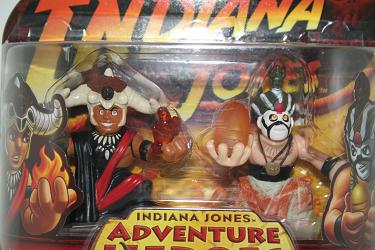 Standing along side the Temple Priest, it is funny to note that he is holding a somewhat heart-shaped ball of fire in his hand rather than a still beating, flaming heart. You have to imagine that the original sketches had exactly that heart, but that it was reconsidered when they remembered that the Heroes line really is, at the end of the day, for little kids. Sometimes I find the character art to be a little too youth-ified for my tastes, with characters made to look not only more cuddly, but also nearly always smiling, even when that is pretty far out of bounds for the character. Unfortunately the Mola Ram art is a great example of that, tending a little too far to the Muppet Babies side of things, but the fact that the figure was made makes me plenty happy enough. While I re-assert that you will be lucky to find these in stores, with how poorly the first two waves sold through, you can still pick up this and the rest of the ToD wave on line cheaply enough...for now!
Posted by charlie on October 25th 2008, 01:36 AM
Leave Comment

Share
---
No comments have been posted.
---