News Details
Flash Force 2000 of DoctorKent
Many months ago, nay perhaps over a year, friend of the Preserve and toy expert extraordinaire DoctorKent wrote to us about Flash Force 2000, one of the forgotten series that we love around here. It turned out that the good Doctor used to operate the only site on the Internet that specialized in information about this line, but had let it lapse in the fullness of time. He was kind enough, therefore, to pass along to the Preserve his complete collection of Flash Force 2000 vehicles and playsets so that we may now feature them for the education of the world!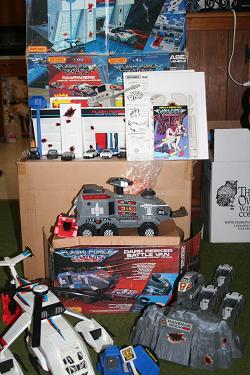 I find it nearly inexcusable that we have had this great set for so many moons and that it is just now seeing the digital light of day. As Cheech reminds us, "Better late than never" - look for detailed posts of this set, coming soon!
Posted by charlie on November 2nd 2008, 04:41 PM
Leave Comment

Share
---
Uncle
November 3rd

http://stores.ebay.com/Auction-Cause_W0QQfsubZ481950014 I am speechless...
cparry
November 3rd

That is really amazing - I'd seen them on the front page, but had no idea that the bids were so high!
jdogg
November 19th, 10:23 PM

I just completed my set. I have everything in the box. I have 3 choppers one in green. 2 rampage rocks all of the cars in and out of the package. Got 2 Dark Seeker vans and 2 Flash Force basses. One mint in box and one incomplete no box. Working on my Road Blasters now.
cparry
November 20th, 02:33 PM

Fantastic collection! I'd dig a pic or two of the green chopper to display here on the Preserve. I sort of remember when one was on eBay a year ago (maybe even one and the same) and for some reason I let it go! Hopefully it made it into your collection.
---