News Details
Transformers Universe - Silverstreak
To say that the
Transformers Universe
line is getting ahead of the Preserve's updates is putting it very mildly. We are definitely not even within sight of the current releases in terms of coverage, but let's make up for at least a small part of our indiscretions in this regard by focusing on the new deluxe edition of Silverstreak!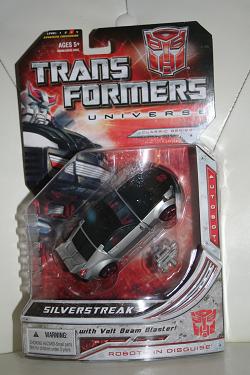 Another favorite character from the past, old Silverstreak is part of the 3rd wave of deluxe figures to come out in the currently ongoing Universe line. What a wave it is too - usually they balance it out with a few Autobots and a few Decepticons, or some new characters vs. some old, but they're proving how serious they are about the upcoming anniversary by releasing Ironhide, Sideswipe and Silverstreak as the entirety of wave 3. Awesome. These figures should be on shelves now, though are still a little scarce because they are make such a nice set, so keep a lookout. Shortly we will start seeing the '25th Anniversary' tag added to the packaging in the upper right corner - this is probably one of the last Universe waves to come out without that distinction.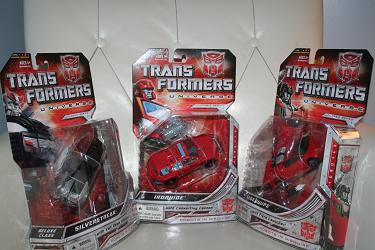 Posted by charlie on November 12th 2008, 07:14 AM
Leave Comment

Share
---
No comments have been posted.
---