News Details
Transformers Universe - Acid Storm
One of the members of the obscure 'Rainmaker' team, under the leadership of Megatron on Cybertron, this is a character that appeared waay back in the G1 Transformers cartoon but did not get a toy until this very year! Featured in wave 2 of the
Transformers Universe
line, paired only with Galvatron for company, comes Acid Storm - click the image for his detailed page!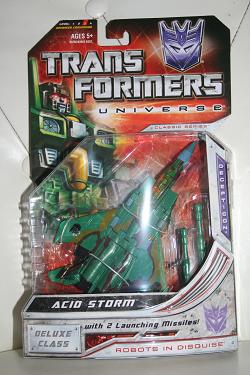 This is a repaint of Transformers Classics Skywarp as well as a few others, but rarely will people complain about repainted seekers. Much to the contrary, I hear much more static any time Hasbro releases only an incomplete set of the core three (Starscream, Skywarp and Thundercracker, of course) within any particular series of figures. Well, now we're getting secondary, some might even say tertiary seekers, but that's just fine with me (and, I suspect everyone else)!
Posted by charlie on November 20th 2008, 01:57 AM
Leave Comment

Share
---
No comments have been posted.
---