News Details
Transformers Universe - Prowl
At the risk of being repetitive, and focusing on the
Transformers Universe
line too much this week, I do have to follow-up yesterday's post with another fantastic figure from this collection, that of Prowl!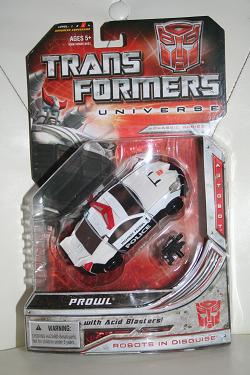 As opposed to yesterday's nod to the fans in the delivery of an obscure and never-produced character, Prowl is straight outta 1984 G1 wave 1. Given the celebration of the 25th anniversary, and the focus of the Universe line on the classics, that is as it should be! Having found reincarnations in many shapes and sizes over the years, it is delightful to see Prowl returned to an approximation of his former glory, in that first US release. Click the image above for his bio and to see his very beefy tech-specs. I'll have to check my G1 box to see if they have always been that high! Some things it takes 25 years to notice.
Posted by charlie on November 21st 2008, 07:41 AM
Leave Comment

Share
---
No comments have been posted.
---